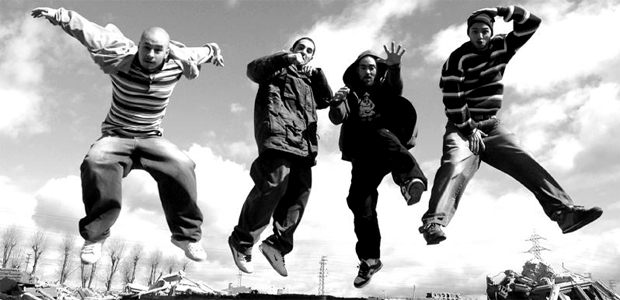 You've heard the story. Working class kid parlays the gift of gab into a ticket out of the hood; the only twist on this story is that this hood happens to be in Spain. Not what you think of when you think hip hop nevertheless the home of the most important hip hop find in the last few years. They are known as 7 Notas 7 Colores. A duo from Barcelona who is more than ready to take the hip hop community by the balls.
The group emerged in 93 out of the ashes of a Spanish underground supergroup by the name of Los Poetas Violentos. One night after a "Poetas" show an amateur emcee by the name of Mucho Muchacho approached the group's producer, Dive Dibosso, with a demo. The gifted producer was impressed enough to break ties with "Los Poetas" In order to work exclusively with Mucho, on what would become classic 7N7C tracks.
It wasn't long before the duo sparked label interest including that of the "Yo Gano" label, who was able to win the bidding war by granting 7N7C's request for an imprint label, a move made primarily in an effort to ensure that the group would not be lumped into a roster that did not represent hip hop to the fullest.
La Madre became the name of the label that Mucho and Dive created to release a series of 7C7C hit singles. When the time came to release their full-length debut, "Hecho, Es Simple", the duo had amassed a strong enough following, which consisted not only of the Spaniard hip hop community but of rockeros and indies as well, to shatter all previous hip hop sales records in Spain.
Interestingly enough it was a chance encounter with one of the principles of Kool Arrow Records that has brought them to this side of the Atlantic. While looking for cover during a brief Spanish rain shower, Juan Brujo (of Brujeria infamy) stumbled into a packed club of kids jumping feverishly to the rhythm of 7N7C. Disgusted by the current state of Spanish language music Kool Arrow saw this as an opportunity let "the real" be heard. In 1999 Koolarrow licensed album "Hecho, Es Simple" from Spanish label La Madre.
Later, Eddy Drammeh (aka Eddy La Sombra) joined them as a rapper; and they took Russian DJ Vadim behind the turntable. They made a song with Company Flow. After that, they started to record their albums in the United States. They had many problems with La Madre, they started their own, La Mami Internacional, releasing an album with the same title. After that, they disappeared from the rap scene, although Mucho Muchacho made a solo album, under his own label C.R.E.A.M., called Chulería, a Spanish word for "cockiness". Ray Roll, Tony Touch and Griffi also collaborated in the LP.
In 2007, they announced the return of 7 Notas 7 Colores, with a new formation. DJ Vadim will be the producer, along with Mucho Muchacho and Principante, an MC from Valencia.