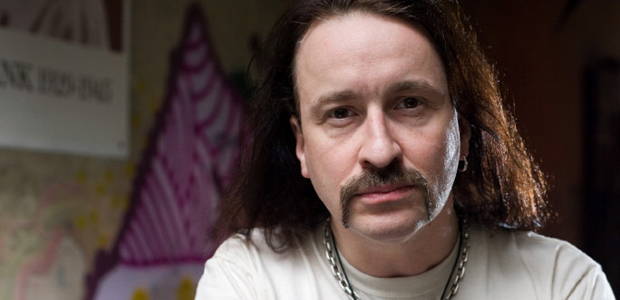 Alexander Hacke is best known for his work with experimental group Einstürzende Neubauten, widely regarded around the world as one of the founding fathers of "indus- trial" music, influencing later bands such as Nine Inch Nails, and Ministry among others.
However, Hacke has a strong musical resume in his own right, playing guitar for Crime and the City Solution (featuring members of The Birthday Party), Jever Mountain Boys, and Italy's Gianna Nannini. He has produced albums for Klaus Kinski, anarchist songwriter Fred Alpi, Miranda Sex Garden, and Meret Becker. And of recent note, he has produced and composed for various films, including "Gegen die Wand (Head On)", directed by Fatih Akin and winner of 2004's Best Film Award at the Berlin Film Festival (and which prominently features the track "Sugarpie" off "Sanctuary"), and appears in the starring role in "Crossing the Bridge/The Sound of Istanbul."
"Sanctuary", Hacke's debut CD as solo artist, is the lovechild of his creative affair with some of the most disturbingly fertile minds in the music scene (contributors listed below). Inherent in the album's conceptual framework is his postulate that location has an enormous impact on perception; to illustrate this point, Hacke has traveled the globe for the past two years. Armed with knapsack's worth of recording gear,he captured pieces of audio from a variety of musicians in different situations. These sonic "keepsakes" were then filtered, distorted, processed, and re-assembled back home in Berlin in order to build his "sanctuary", and ultimately the 11 tracks that make this CD.
PARTICIPATING MUSICIANS:
N.Y.C.
J.G. Thirlwell (Foetus)
Larry 7 (The Analog Society)
Vinnie Signiorelli (Unsane)
Larry Mullins (Toby Damnit)
Michael Evans (KBZ 200)
Algis Kizys (Swans)
L.A.
Sugarpie Jones (Celebrity Skin)
Don Bolles (Germs)
David Yow (The Jesus Lizard)
Chicago Trailer Hitch
Berlin
Bob Rutman (Steel Cello Ensemble)
Chrislo Haas (Liaisons Dangereuses)
Buddy Sacher (Ars Vitalis)
Caspar Brötzmann (Massaker)
Zeitblom
Gordon W. (Fuzzy Love)
Andrew Chudy (Einstürzende Neubauten)
The Boy From Brazil
Gothenburg
Nils Wohlrabe (The Leather Nun)
Milano
Gianna Nannini