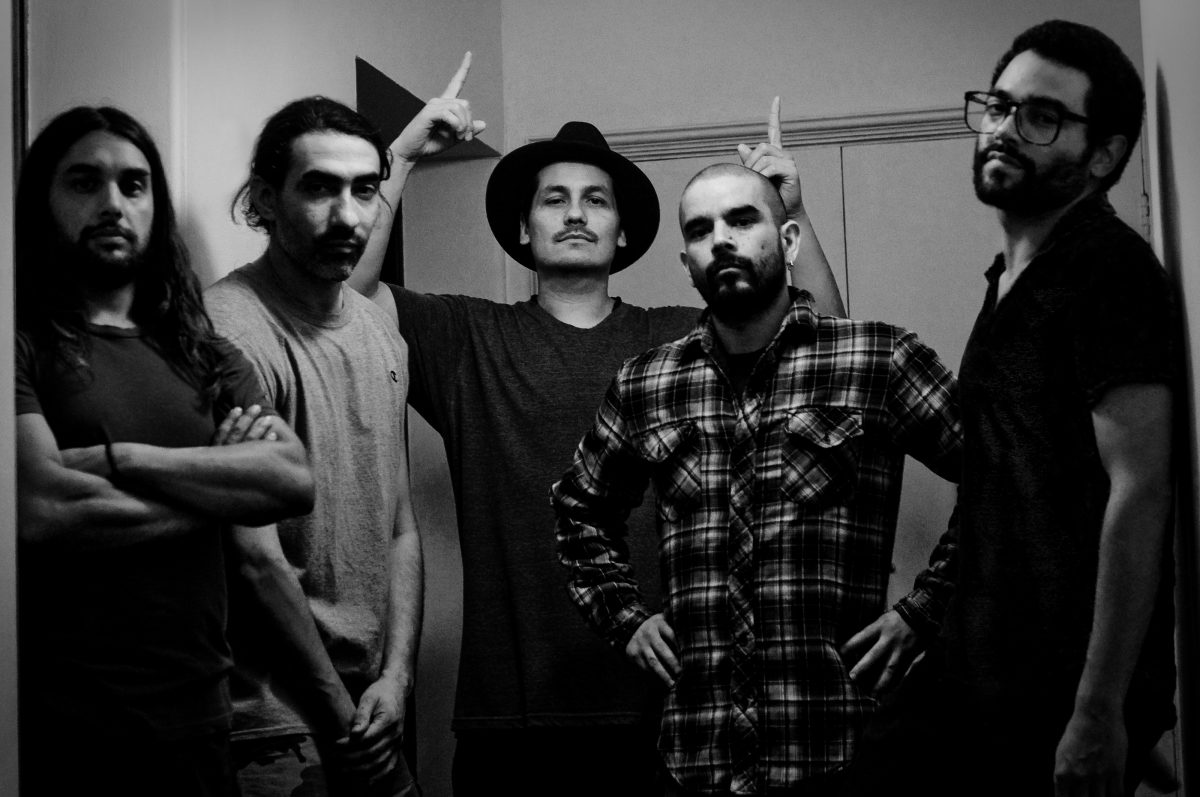 Como Asesinar a Felipes are among the best and brightest from the current musical explosion taking place in Chile, firmly established as one of the country's most popular emerging acts. "Comenzara de Nuevo" marks their US debut. Describing their sound as "fusion between hiphop and jazz" might sound cliche, until one appreciates how their unique approach to the moodier, and darker aspects of these genres (think Coltrane Company Flow, McCoy Tyner, Immortal Technique, Bill Evans)…painted on a psychic canvass in saturated techicolor, against a backdrop of post-Pinochet Chile.
CAF was formed in Santiago in 2006, as a group of three music students with one major influence in common: Hip Hop (esp. Roots, Pharcyde,Cypress Hill). Through the underground music scene they came into contact with experimental MC Koala Contreras and his DJ Sp@cio, and it was from this synthesis that CAF would develop it's signature sound.
Their initial offering was their self titled album (2008), which was their first attempt, "to mix the jazz of the 60s, the rock of the 70s and the rap from the 90s". In 2009, they released "Un Disparo al Centro" (2009), adding a live symphony orchestra to the beats and raps, creating cinematic arrangements inspired by impressionism. "Colores y Cadavers" came next in 2011, reverting to the original quintet and featuring three diverse musicians, each one an influence of CAF: A Chilean punk legend in one track (Alvaro España from Fiskales Ad-Hok), a well known jazz guitarist (Raimundo Santander) and the most respected MC in Chile (Epicentro). This period also marked a collaboration with Grammy award nominee Ana Tijoux, on her album "1977".
2013 brought "COMENZARA DE NUEVO" CAF continuing where the others left off, with the subtle addition of South American folk rhythms, and some sinister synths that surprisingly bring to mind early Krautrock. Recorded in Chile but mixed in California, "CDN" solidified the band's position at home, while also breaking new ground abroad, with shows in Argentina, Ecuador, Mexico and the US. In fact, it was during their US West Coast tour that enabled them the chance to record their newest offering, "V"
Enter late 2014: with their new EP "V", available either via digital sources or as LIMITED EDITION VINYL only , was recorded and mixed by Faith No More's Billy Gould at Estudios Koolarrow in Oakland, CA. All tracks were performed live in the studio with minimal overdubbing; It's fat, dark, groovy and extremely moody; a gritty, late night urban stew seasoned with evil synths and unconventional hypnotic rhythms.
The year 2016 is an important one for CAF: not only in celebrating their 10th anniversary as a group, but by plunging ahead in an entirely new direction, with new member Gallardo on sax replacing the Gabo's Rhodes. It's a bold move, but when has Como Asesinar a Felipes ever played it safe?
To summarize,this is not the hiphop of programmed beats on a grid, songs are structured as premeditated compositions. In contrast to riffs simply cut,pasted and played back on a sequencer, Como Asesinar a Felipes is a living, breathing five member unit. They don't do bling, and they don't do acid jazz, what they do is drag their influences back into the street, where they were born, and where they belong; all the while remaining characteristically Latin. It's as forward thinking and progressive as anything coming out…from anywhere.