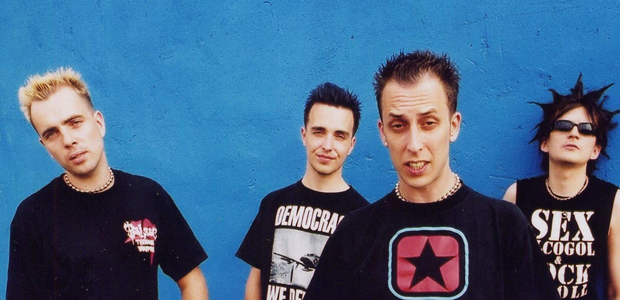 Formed in 1988, NAÏVE began in the Russian army with two recruits Max Kotchetkov (bass) and Sasha Ivanov (vocals). Both trained to be soldiers, they traded their patriotism for punk rock, moved to Moscow and started a band. There they were joined by Ruslan Stoopid (guitars) and Mike (drums) who was years later replaced by another fellow Moscow crony Dima Snake.
In 1991 NAÏVE released their first single "Tanks-Punks" and a debut album "Switchblade Knaive" in the then USSR. When Tim Yohannon of MaximumRockand Roll saw their video to "Tanks-Punks", he realized that he HAD to release "Switchblade Knaive" in the States on the MRR label, making it the first punk record out of Russia to be released in the US.
Meanwhile back home, the band had no problems attracting attention. In addition to numerous fanzines and magazines, some of the big Communist papers like "Moskovsky Komsomolets" and "Komsomolskaya Pravda" published articles on NAÏVE. They were declared "most disgusting band of the year" on national TV.
Possibly their most controversial move, however, was when they performed one-and-a-half songs in front of the Russian parliament building (and more than a few tank barrels) during the so-called "coup" of 1991. Despite their anti-communist position, they had to run for their lives from a virtual lynch mob, because they also chanted "Boris (Yeltsin) is an asshole!" from the stage. Initially, infamy like this prevented the band from playing abroad, as Soviet authorities decided that they demonstrated poor examples of Soviet youth. Nevertheless, "Switchblade Knaive" was listed in the national radio charts for months.
In 1993, inspired by a personal account of buying LSD from the police officers, the band released their second LP "Militia on Acid"(which was banned shortly) and which was later released under a different name "Beer for NAÏVE". As the political climate in Russia had changed, NAIVE were finally able to obtain exit visas and completed a full European tour (Though not everything went smoothly. Stoopid was discovered in France by immigration police with an expired Egyptian passport, and after several days in a French prison – which he now recalls wistfully– he was deported back to Moscow).
After the tour Max quit the band and moved to US. The band reacted to this with a release in 1995 of their third album"Dehumanized States of America". "Gradually, step by step, our world is turning into one enormous corporate empire of dehumanized states", says Sasha, "We should resist this." Max was replaced by "Pete" on bass, a devoted fan since the release of their debut album, foregoing a formal audition. The album firmly established NAIuml;VE as one of Russia's premier punk bands. Yet even with relative success they still encountered it's ups and downs, with the literal loss of a drummer Mike (as heroin became priority number one) and the deaths of several close friends due to drugs and alcohol.
In 1997, they recorded the album "Post Alcoholic Anxieties" in Moscow, and the album was released in Russia that summer. "Post Alcoholic Anxieties " is a natural continuation of a topic first praised by "Beer for NAÏVE / Militia on Acid" with the main theme proposing the following thesis: self destruction through vodka is better than self destruction through heroin. This period marked the height of their alcohol abuse; not necessarily to glorify it, but definitely to come to terms with it.
Since "Post Alcoholic Anxieties", Naive have become on of Russia's most popular and commercially successful punk bands.