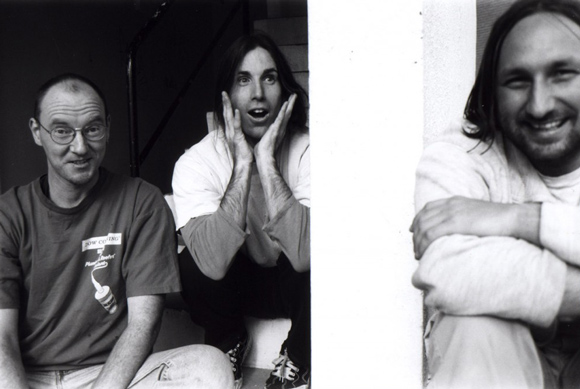 With a history that includes several deportations, a stay in Bratislava and a hit single sung in a foreign language ('Sich Offen' – taken from their debut, Sand On Seven), Not From There is widely regarded as one of the most popular independent bands in Australia.
Their story begins with The Rubber Dolls, formed in London in 1986 by Heinz, an Austrian guitarist, and Anthony, an Australian bassist. After a few years of disappointing gigs around town, they decided to enlist the help of live drummer, Simon, another Aussie, to join up – just as their tourist visas were nearing expiration. The new line-up decided this was a perfect time to pack up their half-written songs and tour Europe as the re-christened Not From There.
In 1993, after 3 years of touring and recording, NFT relocated to Australia, where they released their first CD. A few compilations and Australian tours later, they signed with Infectious records and Mushroom Publishing for the release of their second, self-titled CD in 1997. The album was received with critical acclaim throughout Australia, and the band found itself opening up for the likes of Dinosaur Jr, Unsane, The Deftones, and Swervedriver.
In 1998, the third album, Sand on Seven was released in Australia and Japan. The album was a major success for the band, and won album of the year, best debut album, and best engineering for a rock album in Australia Furthermore, it introduced the band to American audiences, with a US debut on Koolarrow Records.
Recorded in Australia in 2001, NFT's fourth and last album, Latvian Lovers displayed Not From There's trademark post-punk drive, but this time front-loaded with some electronic textures and even a dash of disco; a timely, and timeless album.