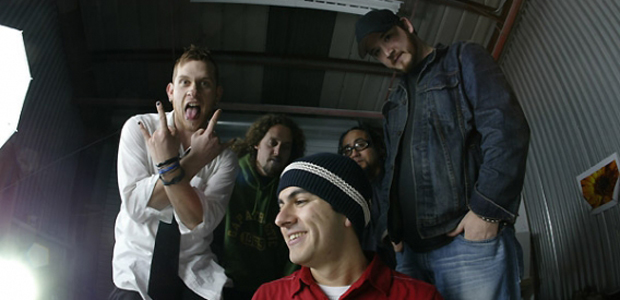 Currently releasing their fourth recording themselves, Unjust have continued to musically develop into their own identity, further shedding any comparisons to their past cohorts and personal influences, yet retaining the core elements that have always identified the band. Evolution has taken a wonderful course with Unjust. As noted in the past, as a creative unit, musical growth is an integral part of a band's evolution; though it runs the risk of alienating fans and following, some of the better bands realize the greatest reward comes maintaining the band's soul, putting the music first, while taking full responsibility for whatever the outcome may be. With their newest release "To Lose A Name", Unjust is a wonderful example of this.
Hailing from the San Francisco East Bay, Unjust first entered the scene in 1999 with the release of their debut effort, "Thin Line Emotions". The album shared the Bay Area metal sound forged by the likes of Metallica, Machine Head, and Faith No More. The album was heavy and brooding; it was released on Dutch label Mascot Records, along with positive reviews across Europe including Kerrang! and Terrorizer. Unjust were also invited to play at the annual Dynamo Open Air Festival in Holland and have had successful shows in Alaska!!!
Their sophomore release followed in 2001, entitled "Makeshift Grey". With "Makeshift", Unjust started to come into their own and created a dark and gloomy metal atmosphere with songs like "Come Feel Me" and "Nylon". Not only did the band continue to solidify their standing in Europe through Mascot. The album also became an underground hit with Bay Area rock fans garnering the band interest from labels all over the world, as well as landing them a spot at The California Music Awards, sharing the stage with likes of Joe Satriani, and Papa Roach. Airplay and winning contests on San Francisco's Live 105 was the norm. It was also during this time that the band began to embark in a new direction, partially brought on with induction of new guitarist/songwriter Mikey Merino; in addition to their trademark riffage, their music began to mature.
The bands third release "Glow" in 2003 brought the band even more attention being picked up by Koolarrow Records, brain child of Faith No More bassist Billy Gould in 2004, garnering even more press, flooding the internet with features on websites like Shoutweb with good reviews on websites, and major rock and metal magazines all over the world. Glow songs have been successfully placed in Fox, MTV and VH1 television shows, as well as an AMP'd Mobile commercial.
Considering their East Bay metal roots, the band "To Lose A Name" in 2008, on the band's own Unjust Records. In addition to their Bay Area heavy influences this album presents a deeper exploration into melody and songwriting.