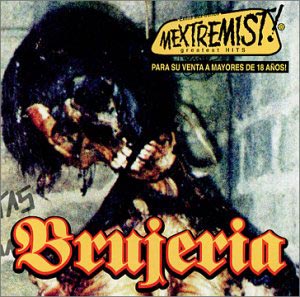 In September of 1990, a bizarre 7″ single from an unknown independent record label hit the shelves in the United States. All songs were sung in Spanish, it's members portrayed as Satanic, murderous drug dealers. It wasn't long before the distributor of the record began receiving orders of 50-100, to single individuals who were purchasing the discs and exporting them personally to Mexico, and other countries in Latin America.
Four singles and two full length albums later, this bizarre group has emerged at the forefront of underground Latin music. Rumors abound regarding the makeup of the group: some say it consists of famous rock musicians, others believe it to be a creation of an organized political organization. SubCommandante Marcos wears their t-shirts. Houston police have suspected them of murder. Last year the group enjoyed a #1 hit in Mexico with "Don Quixote Marijuana" before the government removed their song from the airwaves by force.
One thing for sure, to know about the phenomenon called Brujeria is to know heavy music in Latin America, both past and present. Their songs like "Papa Capado" (castrate the pope) and "Matanda Gueros" (killing white boys) invoke taboos that shake the very foundation of these conservatively Catholic, patently corrupt countries. Nevertheless, their degree of success only illustrates that in fact there is a connection being made between this politically incorrect group and a strong base of fans. And that, while many view them as destroyers of traditional values, many others actually see them as proponents of these values, and just another chapter in the history in a country that honors its' rebels and its' freedom.
The MEXTREMIST CD, is a collection of old, classic Brujeria songs, as well as alternative recorded (and unreleased) versions of songs from their 3 releases on Roadrunner Records.
SOLD OUT!